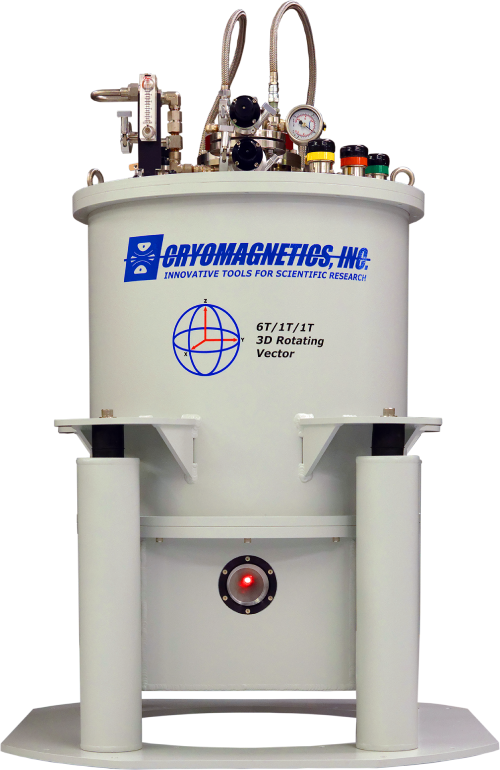 C-Mag Vari-611, 3-Axis 6/1/1 Tesla Cryogen-FREE superconducting magnet system with 1 Tesla spherical vector rotation. Designed to be mounted on commercial optical table with access to 5 ports (2 X-axis, 2 Y-axis and a single bottom mounted Z-axis). The magnet and cryostat are cooled via a single remotely mounted cryocooler while a secondary closed loop helium circuit is utilized for maintaining the bore temperature. System vibration is further reduced through the bedding of compressor and vacuum lines.
Customer Location: North Carolina
6/1/1 Tesla 3-Axis Magnet with 1 Tesla spherical vector rotation.
All optical pathways offer 22o, f 2.53 viewing access.
Four (4) 2.77″ 70mm Horizontal Suprasil windows.
One (1) 2.77″ 70mm Bottom facing Suprasil windows.
50mm ID, <1.8K-325K Sample space.
Compatible with common commercially available measurement probes.
Single, Cryomech Pulse Tube Cryocooler Remotely Mounted.
Low-Vibration configuration.
Delivered: June, 2017