Helium Monaxial Vapor Cooled Current Leads

Cryomagnetics' Line of Monaxial Vapor-Cooled Current Leads offer efficient introduction of high currents into the liquid helium environment (i.e., to the superconducting magnet). This is accomplished by utilizing the helium off-gas from the system to cool the power leads. The leads minimize system heat load.
Consequently, the helium loss rate of the system is also minimized. Standard Monaxial Vapor-Cooled Current Leads are a good choice for research that involves both persistent mode and swept-field magnet operation.
---
Standard sizes and current ratings are listed under the Specifications Tab. Special mounting flanges are available. Contact us for current ratings not listed. For the researcher who performs the majority of his/her research with the magnet in persistent mode, please check out Duty-Cycle Optimized Current Leads.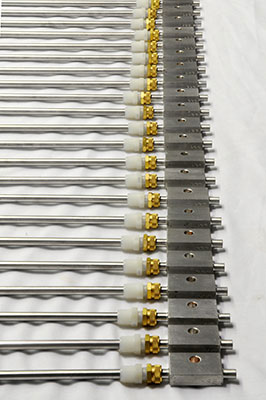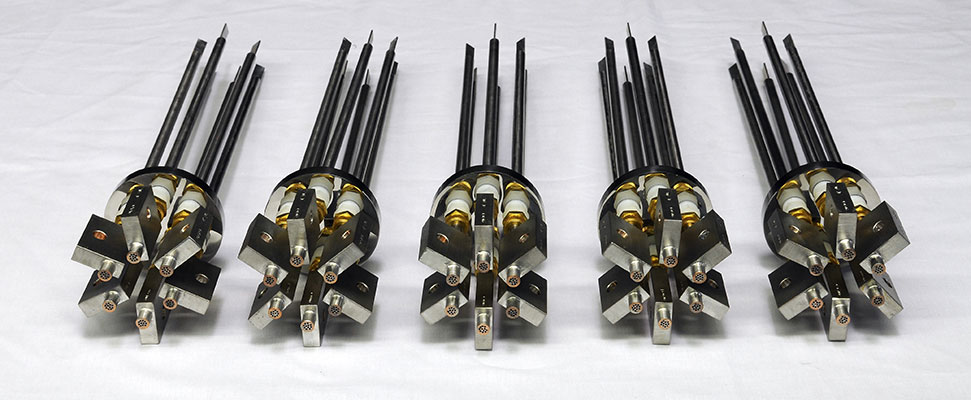 Available Models
| Model | M50 | M75 | M100 | M150 | M200 | M250 | M300 | M400 | M500 | M1000 |
| --- | --- | --- | --- | --- | --- | --- | --- | --- | --- | --- |
| Current (A) | 50 | 75 | 100 | 150 | 200 | 250 | 300 | 400 | 500 | 1000 |
| Dimensions(inches) | | | | | | | | | | |
| A | 0.500 | 0.500 | 0.500 | 0.500 | 0.500 | 0.500 | 0.750 | 0.750 | 0.750 | 1.000 |
| B | 1.250 | 1.250 | 1.250 | 1.250 | 2.000 | 2.000 | 2.000 | 2.000 | 2.000 | 2.500 |
| C | 15.00 | 15.00 | 15.00 | 15.00 | 19.00 | 19.00 | 19.00 | 19.00 | 19.00 | 19.00 |
| D | 1.000 | 1.000 | 1.000 | 1.000 | 1.500 | 1.500 | 1.500 | 1.500 | 1.500 | 2.000 |
| E | 1.000 | 1.000 | 1.000 | 1.000 | 1.375 | 1.375 | 1.500 | 1.500 | 1.500 | 1.750 |
| F | 0.375 | 0.375 | 0.375 | 0.375 | 0.500 | 0.500 | 0.625 | 0.750 | 0.750 | 1.000 |
| H | 1/4 NPT | 1/4 NPT | 1/4 NPT | 1/4 NPT | 3/8 NPT | 3/8 NPT | 1/2 NPT | 1/2 NPT | 1/2 NPT | 1 NPT |
| I | 0.063 | 0.063 | 0.063 | 0.063 | 0.063 | 0.063 | 0.125 | 0.125 | 0.125 | 0.250 |
| K | 0.250 | 0.250 | 0.250 | 0.250 | 0.375 | 0.375 | 0.500 | 0.500 | 0.500 | 0.750 |
| L | 0.250 | 0.250 | 0.250 | 0.250 | 0.375 | 0.375 | 0.500 | 0.500 | 0.500 | 0.500 |
| M | 0.625 | 0.625 | 0.625 | 0.625 | 1.000 | 1.000 | 0.500 & 1.500 | 0.500 & 1.500 | 0.500 & 1.500 | 0.750 & 1.750 |
| N | 0.313 | 0.313 | 0.313 | 0.313 | 0.375 | 0.375 | 0.375 (2) | 0.375 (2) | 0.375 (2) | 0.375 (2) |
Please click on the following links for more information: