Cryomagnetics purchases and takes complete ownership of R&D Tectonics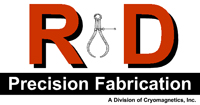 Release Date: October 1, 2003
Cryomagnetics, Inc. a manufacturer of superconductive magnets, cryogenic systems, and related electronic instrumentation announces the purchase of R&D Tectonics (R&D), a precision machining company located in Oak Ridge, Tennessee. All former employees of R&D have been welcomed to the Cryomagnetics family.
As a result of the cash transaction, R&D has been renamed "R&D Precision Fabrication". As a division of Cryomagnetics, R&D Precision Fabrication will continue providing the high tolerance precision parts and assemblies to its existing customer base and expand its capability to address the needs of Cryomagnetics' customer base in the cryogenic community.
Cryomagnetics' management believes this acquisition is a major step forward to strengthen and accelerate the company's commitment to become the world-leading superconducting magnet and system manufacturer.
Cryomagnetics is already one of the few superconducting magnet manufacturers worldwide with the capability to engineer and manufacture both superconducting magnets and dewars in-house. The acquisition of R&D Precision Fabrication will help streamline production and further reduce reliance on outside vendors. Management of Cryomagnetics believes this will help increase quality, enhance the ability to deliver custom superconducting magnet systems, and improve delivery time of all products.
Cryomagnetics has recently announced a new generation of the superconducting magnet power supplies, new cryogen-free superconducting magnet systems, and the world's first commercially available high temperature superconducting magnet system for a gyrotron application.
For more information on Cryomagnetics and R&D Precision Fabrication, please contact Brian Pollard (865) 482-9551, bpollard@cryomagnetics.com