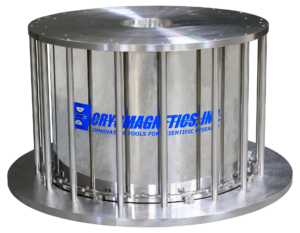 Cryomagnetics is the world-leading manufacturer of superconducting magnet systems used with gyrotron tubes.
Customer Location: Germany

140GHz and 175GHz Magnet Systems:
Superconducting Coils
Main: A set of three (3) series-connected coils that produce the specified field shape.
Supplementary coil: A coil that produces higher cavity field regions, up to 7.1 T, in conjunction with the main coil set.
Gun: Used to trim the field at the cathode position.
9.06 inch 230mm Vertical Room Temperature Bore.
Single, Sumitomo 1.5W Gifford McMahon Cryocooler.
Delivered: April, 2022